Frequently Asked Questions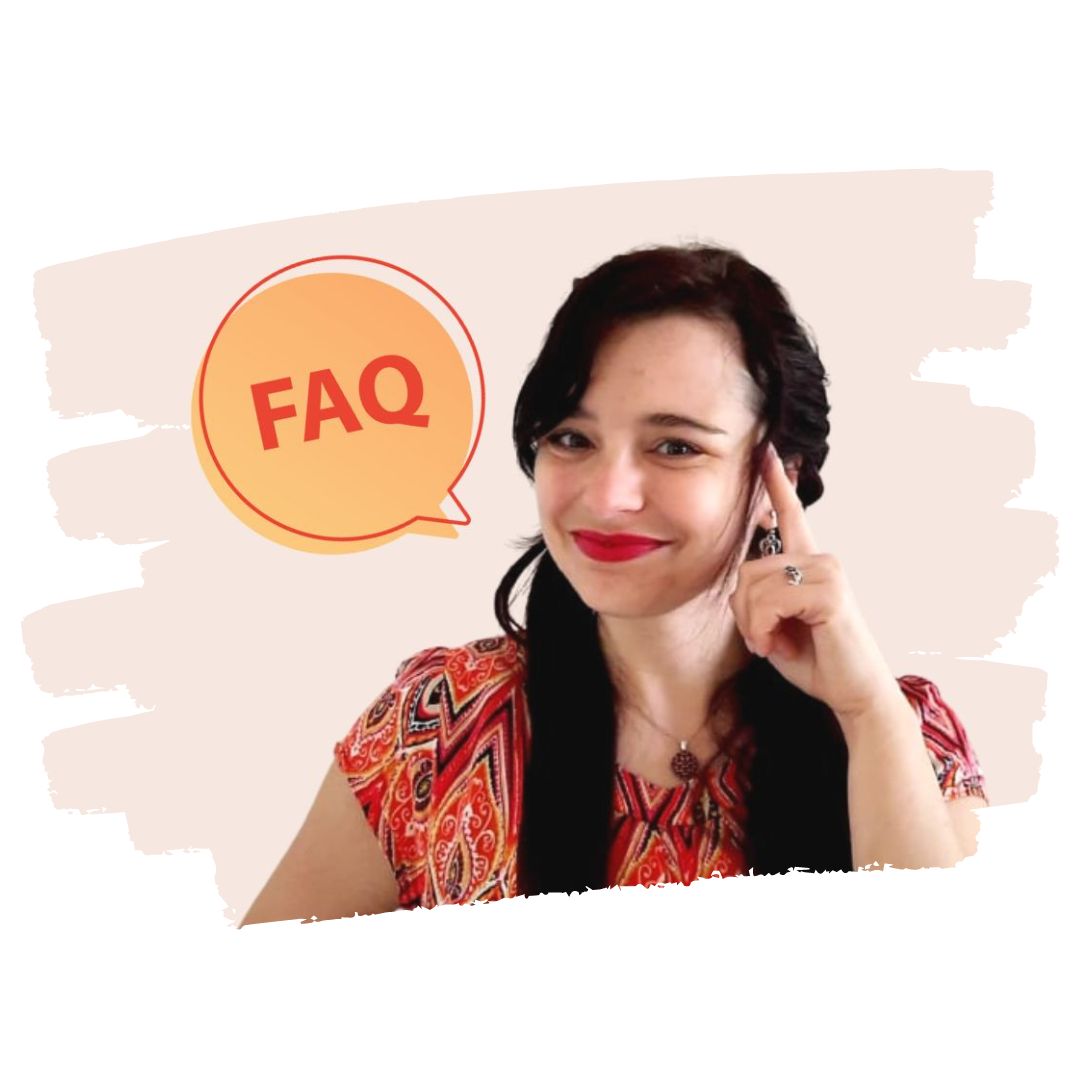 Are lessons with English with Suzie for me?
Lessons with Suzie are best suited for you if:
---
Your current level of English is B1-C1 (intermediate, upper-intermediate, advanced)
if you are not sure what level you are, you can test your English level here.
---
You like to try new things and enjoy your English learning rather than perceiving it as a boring chore 
---
You are a motivated, autonomous learner who wants to surround themselves with English and seeks out new ways and opportunities to do so
---
Throughout our cooperation, I would lead you to the understanding of what type of learner you are and how to best provide for your learning needs.
I will guide you through different ways of surrounding yourself with English on a daily basis so you can start rewiring your brain for thinking in English instead of having to translate in your head all the time.
I will help you to create a personalised learning schedule based on your learning preferences, needs according to what you are perfecting your English for, and your hobbies and other things you enjoy doing, learning or talking about.
Our lessons together will boost you and address your language and grammar needs but a lesson a week cannot replace your individual daily work. Not if you really want to move on. You do not have to spend ages though.
We will talk about the best ways you can use little bits of time during the week to move on the way you need to.
---
You are looking for language coaching to achieve the best results 
I am much more than a language teacher. My aim is not only to teach you but to ultimately lead you to independence in your English learning. I want you to fall in love with your learning, to feel empowered, to feel like you know what you are doing. I cannot assure this outcome for you if I only teach you vocabulary and grammar. Therefore, among other things, we will also regularly talk about how to learn, what resources to access, and how to best move on with your learning. 
---
Lessons with Suzie ARE NOT a good match for you if:
---
You are a complete beginner 
In this case, you need a different teaching approach than I can provide for you and I am happy to recommend other teachers for you, depending on your first language. Message me here.
---
You expect a traditional form of teaching with textbooks and exercises to fill out
I do not teach from textbooks at all as I do not find them engaging enough for my students. For homework, I will most often give you interesting, creative tasks or links to explore. Only occasionally would I give you filling in exercises, even for grammar practice. 
---
You do not want to work on your English outside of our lessons
You cannot learn a foreign language only in lessons. You will need 1000-1200 learning hours to advance from complete beginner to C1 level, as described in this table (based on  
| | |
| --- | --- |
| Level of English | Min and max hours needed to move a level based on how much repetition each individual learner requires |
| A0 → A1 | 60 – 100 |
| A1 → A2 | 160 – 200 |
| A2 → B1 | 210 – 400 |
| B1 → B2 | 260 – 600 |
| B2 → C1 | 700 – 800 |
| C1 → C2 | 1000 – 1200 |
Once you pass A2 level, you can no longer rely just on the input of your teacher. You need to practice your language daily, not once a week, otherwise, you will never progress enough to achieve fluency.
Every day, you need to rewire your brain a little bit more to understand English more and to remember words when you need them in conversation. This does not happen by magic.
However, if you are willing to put at least a little bit of work in most days of the week, I can show you how to make the language learning process fun for yourself and how to place English all around you so that you basically cannot avoid it, setting yourself up for success.
Where and how do the lessons take place?
The lessons take place online on the freely available platform Zoom or other platforms as agreed individually if necessary.
What do I need for online learning?
Online learning provides you with a number of advantages such as time saved on travelling to in person lessons, huge flexibility, and access to a myriad of authentic learning resources and activities. So what will you need to make it happen?
A computer with a camera and a microphone 

A stable internet connection (at least 20mb/s download)

A quiet place where you won't be interrupted
How can I book individual online lessons?
If you are interested in individual lessons, contact me here or email me on: suzie@englishwithsuzie.com 
We will book a cca 30 min FREE initial zoom meeting which is not binding in terms of future cooperation.
We will chat in English about what you expect from the lessons, your learning goals, and your time availability. You will get to meet me and see my teaching approach. If we are a good fit for each other, we will agree on a starting date.
What are the advantages of group learning?
Online group learning is, in people's mind, often connected with boring paced lessons where the teacher does all the talking. The students never get to the word, resulting in a lack of enjoyment and little improvement in their speaking.  My group lessons are definitely not the 'lesser quality' lessons. On the contrary, I consider them as the next step for you once you are comfortable enough to talk to 1:1. 
Students from different countries are carefully matched together from my students as I want everyone to feel comfortable and get on with each other. I want them to have the opportunity to experience talking to individuals from different cultures, practising. You will do most of the talking in the lessons as you will work in pairs in break out rooms.
The advantage of the group lessons is that this setting is the closest learning setting to a real-life speaking situation where people of different nationalities are involved and you cannot rely on the safety net of 1:1 conversations with your teacher. You just have to get your message across and explain it to people of different cultural backgrounds who may have never heard of what you are talking about. It sounds scary but after the first lesson, it is very enjoyable and it is exactly this that will give you a huge confidence boost in the end.
See what my students said… 
"My favourite memory are the first 10 min of the first class as it was the first time I used my English to speak to a group of foreigners"
"I always look forward to seeing everyone in the group. I love the diversity of the group, meeting with people from all over the world, learning about different cultures and sharing mine with them."   
"Being exposed to so many different accents, cultures, and backgrounds during the classes, I am now confident about speaking to foreigners from different countries."
What can I expect from the group courses?
Each course lasts

10 weeks

and is carried out in a

small group

of 4-6 people 
Each of the lessons conducted weekly in a regular time

on Zoom

lasts approximately

75min
one out of the 10 lesson is always reserved for meeting a

special guest

from abroad to liven up the learning
In the lessons we will be exploring interesting topics agreed upon in the first lesson. Each group has a different program and materials based on their preferences. I always want to make sure you take part in the decision making about your learning. Therefore I first want to hear from you before I prepare the final version of the discussion topics. Each other topics is then individually prepared to suit the needs of the group to promote engaging conversations. Therefore each lesson serves primarily aimed at your practice of communication, pair and group work in English, and gaining new knowledge
Learning materials from each lesson are also available in a shared Google document along with any new vocabulary addressed in the lesson 
The focus of the group lessons is

speaking fluency

and you

will not be corrected

during the group lessons. While I may correct you during individual lessons while you speak, I purposefully avoid doing this in the group lesson as my aim is for you to

stop focusing on making potential mistakes

, and instead, to

start focusing on getting your message across

. Because this is how you will face real-life speaking situations. Instead of correcting your mistakes verbally in the lesson, I write them down into the shared document along with the correct way of saying the phrase or sentence and you can check the document out any time, having unlimited access to it even after the termination of the course. 
My students find this form of learning very effective. Check out what they have to say from their experience in the group: 
"I am more confident now even when speaking to people who speak English better than me. That used to terrify me."
"I stopped focusing on single words that I don't understand and getting lost in the conversation. Instead, I learned to listen to the context and this is how I can keep up. I can even figure some new words out from the context"  
"I enjoy having these meetings on a regular basis where I will have a safe place and opportunity to challenge my language skills and grow. I always look forward to that." 
"Both the best and the most challenging part is meeting people of different personalities and different cultures. I am learning how to communicate with people from different countries." 
"After the class I had a work meeting with a supplier from abroad. I understood them well, they understood me, and I could solve a problem we were dealing with for the past 4 months. This is when I knew all my learning paid off, I felt really great!." 
"In the first group I participated in I had problems understanding the accents but now in my second group it is no longer an issue and I understand well.  
"Even though our languages are so different, we can all communicate together through English. There are many stereotypes about talking to foreigners, in the group you realise that despite we are different, we are all also very similar. English connects us together and that's very positive. I loved getting to know people in our group!" 
How can I sign up to group courses?
If you are interested in learning in the group, contact me through here or email me to suzie@englishwithsuzie.com 
I will get back to you and agree on a short phone call (cca 15min) where we will talk in English to establish your level of English so I could offer you the right course and answer any questions you may have. Then I will be looking forward to seeing you in the group!
Under what conditions can I cancel my lesson?
Please read the lesson cancellation conditions carefully. With your order of the lessons, you agree to these conditions.
---
I need to cancel an individual lesson
The cancellation of the lesson from the student's side is possible free of charge only up to 24 hrs before the lesson was to take place. If the cancellation takes place later or if the client misses the lesson without notifying the teacher, the full price of the lesson will be charged without compensation.
---
If the lesson is cancelled by the tutor
I try to avoid the cancellation of lessons as much as I can and if I do so, it is for serious reasons, i.e. illness. If it happens, we will arrange the lessons according to our availability for another day the same week or skip one week without you losing the money. This way, the lesson will be replaced for you. 
---
I cannot make it to a group lesson
If you cannot make it to the lesson with a group, the lesson fee will not be compensated. However, you will have access to the shared document with notes from the lesson and any potential homework so you do not miss out on the content.
---
Early termination of the course and refund of the course fee
Premature termination of the course and refund of the course fee for lessons not yet taught, or transfer of the course fee to another course is not possible so please think carefully before signing up for the course.  In case of demonstrably serious reasons, we will resolve the situation individually.
---
Frequent cancellations of lessons by the student
Because I want for our lessons to have an effect on your learning progress, I work with motivated students. For this reason, I reserve the right to at any time terminate the cooperation with any student whose attendance is lower than 60 %. In this case, the remaining part of the course fee will be transferred back to the student.
I need a different service than I found in your offers
Do you just need a one-off consultation to prepare for a meeting or a job interview, or another important event?  Message me here and describe what it is that you need to prepare for: 
---
The payment and terms and conditions
To ensure we will work together well without any potential misunderstandings, please read the Terms and Conditions of our cooperation HERE.
By ordering lessons with English with Suzie or other services, you agree to the terms and conditions.
The payment is carried out either by a bank transfer, PayPal, or Revolut, depending on the country you are in or your preferred way of payment. An invoice will be issued in British Pounds only prior to the agreed payment.
Would you like to ask about something else?
Contact me here. I will get back to you as soon as I can 😉
---