Hi! My name is Suzie.
Originally from the Czech Republic (Central Europe), I have spent the past 15 years living, studying, and working in the UK. For 6 years, I worked and taught in local primary schools. I loved the kids and the job, BUT…
I wanted to travel and try what it's like living in different countries. However, my job was keeping me put. This is where I decided to brave a big life change and went back to university to make my dreams happen. I acquired my MA TEFL degree in Teaching English as a Foreign Language and since then I have taught 2000+ online English lessons. 
I acquired my freedom to be where I want to be and travel thanks to my English skills. This freedom is something that I want to share with you! 
If you are thinking of getting a job abroad, or want to be fluent so you can travel confidently, I cannot wait to help you achieve your goals and celebrate your victories with you!
Professionals who need English on regular basis, want to grow in their speaking confidence and be able to use English naturally, without hesitation. 
Professionals who are preparing for working abroad in English speaking environments.
Motivated English learners who are ready to enlarge their vocabulary, confidently use all English tenses, conditionals and idioms, and be able to speak fluently on a large variety of topics.
Learners on B1 – C1 level
Wondering if I am the right choice for you?
Excellent question! Why not check out my blog about 'How to choose the right teacher for you online'. A student and a teacher have to be a good match. Otherwise, the cooperation doesn't work. 
This is why, before agreeing to cooperate together, I want to speak with you during a 30 min free initial consultation to see if we are a good match for each other. 
I don't teach from books but from the heart. I believe learning has to be fun, enjoyable, and practical.
I will coach you to achieve your best results. However, English fluency is not something one can get from lessons only. I will help you and guide you but expect you to invest into your language learning outside of the lessons too. I attain great results with my students. But for that, you have to be willing to put the work in.
Does this resonate with you? Great! Message me and let's set up a meeting!

Contact me and let's talk about it 😉
BA TEFL certificate from the University of Essex, UK
Certificate from the Lingua Piu language centre in Italy – course for teaching English to adults using the Montessori method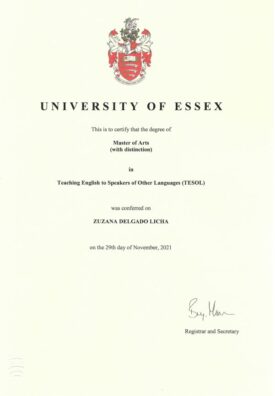 MA TESOL certificate from the University of Essex, UK