Your cosy Christmas reads
Hits: 53
Winter always calls us in and forces us to slow down a little, pick up a good book, make a hot chocolate or good tea, put warm socks on and enjoy the moment.
You can use such magical moments this winter to improve your English while still relaxing and having a good time.
If you want to go deeper into the science behind learning a language through reading and learn more about reading on your level, you can check it out here. 
And finally, what are my recommendations to get you into the Christmas mood this December?
Here they come, a selection from different difficulty levels and genres so that everyone can choose their favourite: 
The Nightmare before Christmas
A delightful book if you are beginning with your English learning. While it is a children's book, adults will appreciate the heart-warming story of Jack, the self-proclaimed 'pumpkin king' who delights himself in scaring people, living for the dark tricks of Halloween. However, eventually Jack gets tired of all things frightful and gloomy, crying:
"I don't like graveyards and I need something new. There must be more to life than just yelling: 'Boo!'".
One day, by accident, he wanders into the joyful place of the colourful Christmas Town where he discovers the wonder of sharing Christmas cheer. He instantly knows what he has to do. He must bring Christmas to Halloween!
You might have followed Jack's hilarious attempts to make Halloween a cheerful place in the Disney movie version but I'm sure you will appreciate the rhymes and word play in this book. Try it out, you will not regret it!
The English in this book is for levels: A2 – B1
A popular Christmas story made famous by its muppet TV adaptation, theatre plays, and Disney animated musical. Nevertheless, the classic is a blast to read!
What's more, what you may not know is that the phrase "Merry Christmas" only became popular following the release of this book! Language history in the making.
Split into five parts, the storyline describes the stingy Ebenezer Scrooge visited by the spirit of his deceased business partner, travelling to the Christmas past, present and future. He is made aware of how his decisions and attitude influence his poor employees. Will Ebenezer change before it's too late? Can he make a difference? 
The English in this book is for levels: B1 – C1  in its original version. However, you can find this famous story on all levels from A2 in 'graded readers' books in Penguin Readers, along with many different popular titles.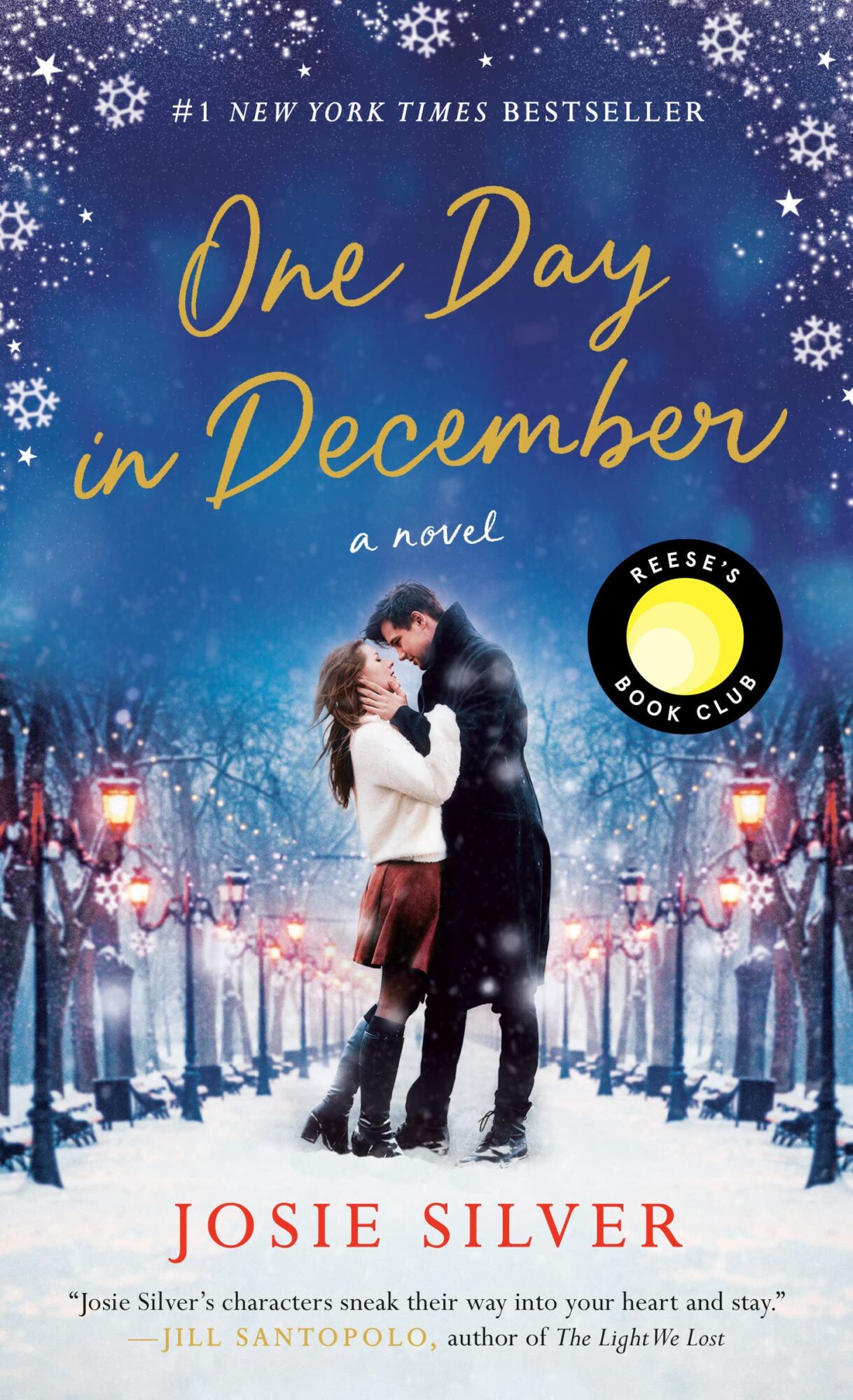 The New York Times best seller heart-warming romance story is all about friendship, true love, and romance that could have been but was not. 
Set in London, one day in December, Laurie (who does not believe in love at first sight!) finally meets him – the man who is about to change it all! However, she is sitting in a bus and he is not. Laurie spends a year looking for him, to no avail. That is until the next Christmas rolls around and she goes to her best friend's Christmas party!
What happens next? Find out for yourself with this feel good book by the British novelist Josie Silver who considers herself 'an unashamed romantic'.
The English in this book is for levels: B1 – C1
For the fans of historical mysteries, Murder Most Festive is considered an 'unputdownable' Christmas mystery. 
Set in Westbury Manon in the British Isles,  on a Christmas Eve 1938, the Westbury family and assorted friends have gathered for another legendary celebration at their beautiful country house. On Christmas morning, David Campbell-Scott, one of the family's friends who recently returned from overseas with untold wealth, is found dead in the snow. There's a pistol beside him and only one set of footprints. It looks like a suicide, yet something doesn't seem right to amateur investigator Hugh who sets out to find out the truth… 
The English in this book is for levels: B1 – C1
The Twelve Clues of Christmas
This historic murder mystery novel from 'Her Royal Spyness Series' (#6) takes you to Scotland of 1933. With her true love travelling around South America and her mother stuck in a tiny village, lady Georgiana Rannoch, thirty-fifth in line for the British throne, manages to land a position as hostess to a posh holiday party in Tiddleton to avoid spending Christmas alone. 
However, when she arrives to the winter wonderland of a village, things take dark turn with three deaths in three days and a thorough investigation is due. 
The English in this book is for levels: B1 – C1
The Story of the WWI Christmas Truce. This heart-warming history novel follows a true story, depicting a moment of humanity in the otherwise dreary war time of chilling December of 1914. 
That year, among the killing, mud, rain, and freezing cold, a glimmer of hope sparked up on Christmas Eve with a line of candle lights on Christmas trees along the German trenches. The sign of peace was met by the British, French, German, and Belgian troops unifying to sing Christmas carols, and by Christmas Day, exchanging gifts and even playing football together before facing the terrors of the battlefield again two days later.
A famous Sainsbury's Christmas add from 2014 depicts the wonder of the day. 
If you have interest in the war time history, this book is just what you need to enjoy this Christmas time. 
The English in this book is for levels: B2 – C1
Choose your favourite according to your level, genre or topic preference and enjoy the holidays! 
Check these books out in kindle version where you can click on each word that is new to you and immediately find a translation! 
Also, remember that most books can be found on multiple levels. Don't get frustrated when reading, feeling like this isn't for you. You should be reading one level above yours in order for it to feel challenging enough but not too much. Your learning should always be enjoyable, reading included. 
Happy holidays full of cosy moments with a good book!